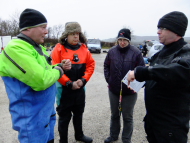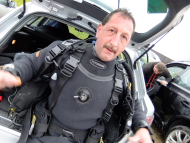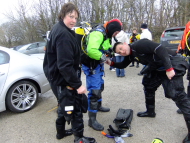 these pictures have been edited in and added by Smudge
A Busy Training Day at Capers
It was a wet dull day today at Capers. But there were smiles all round with 2 students doing open water dives towards their qualification.
Correct me if I am wrong but Tim completed dives 1-3 under the guidance of Rob (legendary) and Killa (the legend) with Ange and Skies assisting as tDMs, obviously completing more of their training at the same time to be DMs. I was not involved in their group so perhaps they will fill in the details themselves. Unfortunately Killa (legend) had some wet dry gloves and did have to sit out their 3rd dive, being 'relegated' to shore cover - sorry I meant 'promoted' to shore cover.
In my group Smudge led, Allie was our excellent student, I buddied her and Andy tagged along to make sure Mrs W came to no harm.
Dive 1 involved a gentle decent to Shergar and a return back up the slope. Allie did well with her bouyancy and skills.
After a quick hour out, Allie being a bit chilled we got back in quickly to complete her 4th dive this weekend. This time a giant stride entry, left turn to the boats along that side, African Queen/Gypsy Moth area.
Allie was a little anxious about the depths she was reaching, made deeper by a calculated drop of a reel to make her go even lower.
Well done to Allie for being such a great student
She has also completed her exams today and just has a few pool skills to do on Friday to complete
Dive 3
Yes there was a 3rd dive for 2 of us. Leaving Mrs W to do her quizzes and exam Mr W and I did a 3rd dive for ourselves.
I think Rob was tempted but he had work to do with Tim.
This was a gentle relaxing dive to the Orca, a potter around and inside that boat, then a slow return to the training area by the horses, still only about 22 mins in, too early to finish, I had a look over the edge, 3 side mount divers were going down to the right side of the plane. Interesting to watch. So being so close we had to drop down to the tail section, then a quick swim under/through/along the plane, then to the container with rig on top. From here, over the road to the back wall of the quarry, vis quite good there. Turned left and finned along the wall at 16m, went over the sump, vis all stirred up here so we did not go deeper here to add to that, continuing until we reached the slope to go up to the platforms where we usually do our 5m safety stop. After that we noticed that we had reached 57 minutes so of course had to stay in until 60 mins was up. A great dive, one of my better ones in Capers, 120 bar used over the 60 mins, 5 degrees, max depth 18m.
Sorry - no photos today