Squirrel wrote:

We all know you two love diving, shame the same can't be said for your fellow divers on the boat, they look compleatly fed up. Did william make them climb aboard without using the lovely dive lift. Nice to see divers enjoying the uk coast, keep it up.
yeh the rest of the boat had a real nice time.....but the young lady was very cold and had just had a bit of a scare with a rapid accent from 30mtrs nothing to serious but they put her on the nitrox mix they had dived with and she didn't dive again, but was fine and well monitored by her dad who is sat by her side. (not to mention the other 16 divers all concerned and eager to help)
she was a little under weighted but had slowed herself with the shot line but missed her stop was down for 15 mins, her dad had buddied her and came up with her.......

But ALL was well,


and bill looked after us all and the lift is a real treat



have to get one fitted to all cy's boats.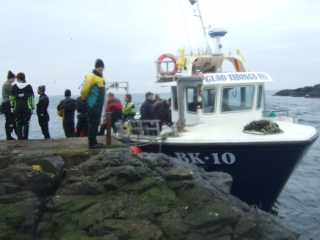 and we all had fun.........
cos diving is most definatly fun