Over the past few weeks we have been diving couple of times. First time was a days diving at Lake Coleridge again. Gary's girlfriend, Nadia, qualified as an OW diver just before Christmas and they are both going back the Poor Knights this week to do a couple of days diving. So, the plan was to have a couple of days diving to give them that little bit more experience before heading up North.
Lake Coleridge was very much the same as last time with vis at about 10m maximum depth for the two dives being 18m with bottom times of 30 - mins. Both Gary & Nadia improving their buoyancy skills and subsequently their air consumption over the two dives.
This last weekend we headed over to a little place called Flea Bay for a sea dive. This is located to the South of the Banks Peninsula has little current or surge so is ideal for novice divers, it is also a marine reserve with a no take policy that is vigorously enforced. We chatted with the local farmer to ask the best side to dive and after kitting up headed over to the left of the bay. As soon as we pt our heads in the water you could see the rocks were covered with Paua (abalone) to us Brits !
We headed out keeping the reef on our left coming across Blue Cod, Parrot Fish, Sea Perch, loads of Cray Fish which were huge. The dive is shallow at only 10m although the bay does reach approximately 30m at the mouth some distance away that a boat is required to explore that area. At 100 bar we turned the dive heading back to shore and were greeted by a lone New Zealand fur seal that came down to see what all the commotion was about. Star fish, more rays and Paua to end the dive.
The fact that this area is designated a marine reserve has allowed some of the critters to grow to quite a size. The return journey involved a drive over a pass at 900m so after our two shallow dives we spent a couple of hours exploring the bay and surrounding area. We found some nesting penguins in and amongst the rocks, the shy little fellas wouldn't come out so the photos are quite dark !!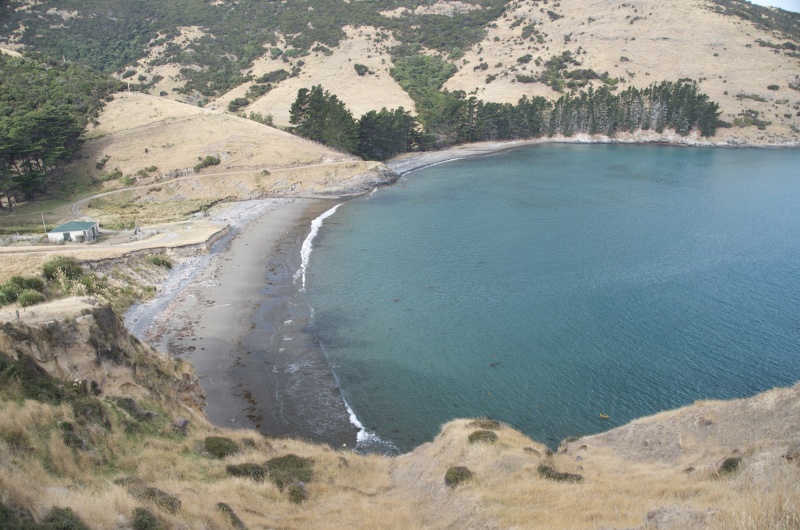 Looking down on Flea Bay.. We parked just to the left of the green roofed hut.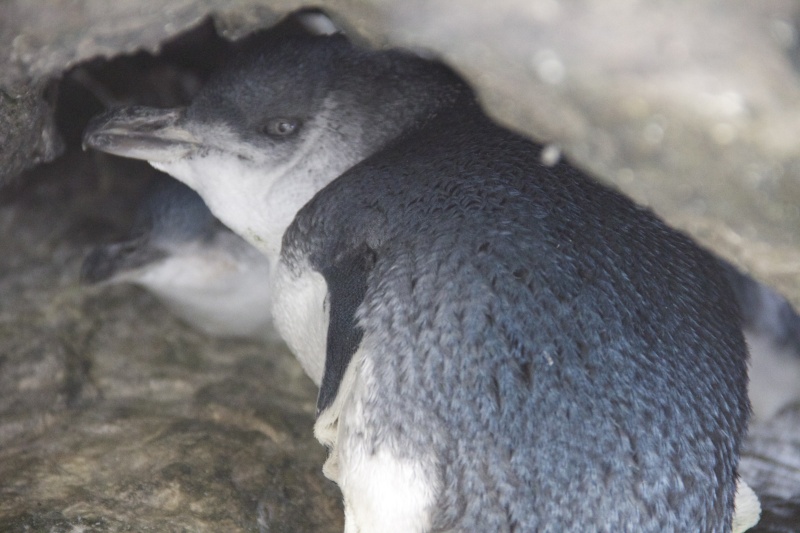 Little Fellas hiding in their nest in the rocks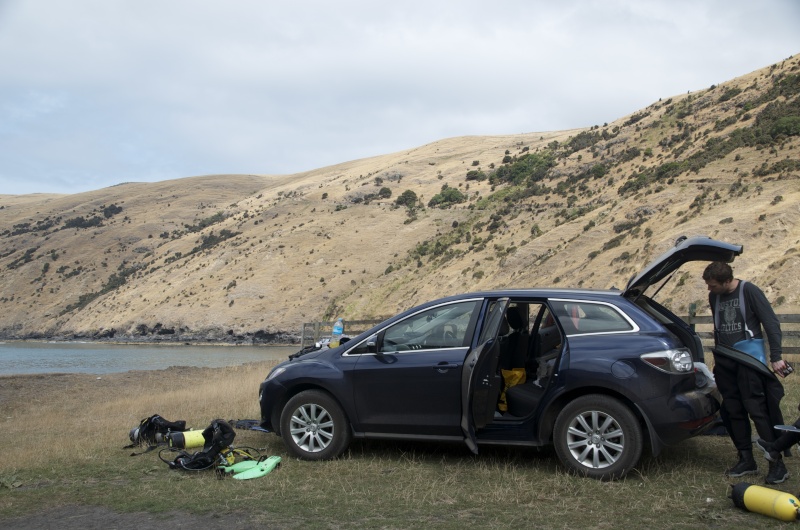 Dive site to ourselves !! Very much like Northern Scotland in topography.
We have some under water photos also but these were taken on a Go Pro and I am having difficulties in up loading them. I will try again later and see if I can sus it out.
Happy diving