Once again we attended the annual photo competiton at Stoney Cove.
Having had a slight delay in our set off time - moose turned squirrels alarm off! For 30mins i tried to wake him!
We got to stoney about 5.45am and joined the already large que to get in. We managed to get in the bottom car park, right next to the gate to the water. Ian and Justin joined us before registering at 8am.
Our first dive entered off the bus stop entry point. Once underwater the viz proved to be about 2m at best. Camera in hand we moved along the 6m ledge, photographing the major points on route. The plane, the nautalus and under the pub. Conditions didn't get any better as we moved round the edges of the lake. We managed to find about eight or so large Pike. These camera shy fellows proved too much of a challenge with the wide angle lens i was using. We then made our way to lower terrace at about 20m, again just photographing anything that proved interesting. Our dive time for this dive was just short of one and half hours, water temparture at about 7 degrees. All I can say is thank god for pee valves (and thank you to natilies mum).
Our second dive was straight forward. Surface swim to the Stanegarth before descending. Plenty of pictures before making our way to exit. Just before we exited, lurking under the bus stop entry were two wonderfull Pike. I managed to get a couple of pics before we surfaced. Again good dive, about 50mins and a depth of 22m.
I would like to thank my fellow buddy for being so patient throughout both dives. Not forgetting Ian and Justin for coming to support our little venture.
Here are the nine shots I have entered. There are three catergories, Close up, Wide angle & Aquatic Life. Next time join us, bring your own camera - there are some great prizes to be won in these competitions. This years prizes are including a couple of Fuji F50 cameras, Forth Element thermal wear and much more.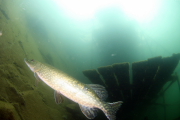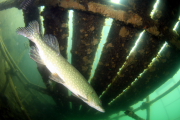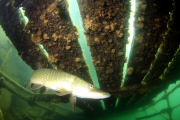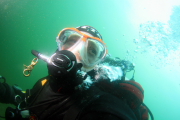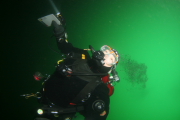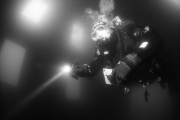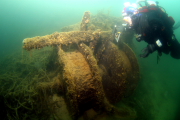 We did have to hide in the van between dives - the weather was, well lets say intersting!!